Our History
St. Mary's Reopened for Worship

Worship Services
Second Sunday each month, 4:00 p.m.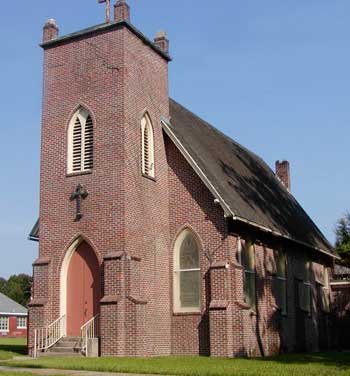 On Sunday, September 12, 2010, at 4:00 p.m., the Holy Eucharist was celebrated at St. Mary's Episcopal Church in Bolton. The Reverend Billie Abraham, rector of St. Alban's Episcopal Church at Bovina, officiated. The service was the first to be held at St. Mary's since the church closed its doors a decade and a half ago.
St. Mary's, located in the heart of Bolton, is one of the oldest Episcopal churches in Hinds County. As early as 1855, Bishop William Mercer Green, the first bishop of Mississippi, celebrated the Holy Eucharist in Bolton. Following the service, Bishop Green wrote in his journal: "The day was pleasant and I found, on my arrival, a large congregation of blacks as well as whites comfortably seated under the cotton shed. The crude extemporary seats were covered with clean cotton bagging and set on a triple tier of bales." The cotton-shed service compelled local villagers to work for the establishment of an Episcopal Church in Bolton. On April 8th, 1872, members of the vestry signed articles related to the organization of St. Mary's Church. Four years later the church was built and the first service in the new church was held April 10th, 1876, with Bishop Green officiating.
The Collect for the occasion proclaimed: "O most glorious God, whom the heaven of heavens cannot contain; Graciously accept the Dedication of this place to thy service; and grant that all who shall call upon thee here may worship thee in spirit and in truth, and may their lives show forth thy praise: through Jesus Christ our Lord. Amen"
Bishop Green later made note of the historic service in his journal: "Preached at Bolton in their new and beautiful church, which, though in an unfinished state, may claim, both in design and workmanship, to be an ornament to the Diocese, and a monument in praise of the taste and labor of the builders." For over a century, St. Mary's remained active as a church family and played an important role in the community. It was a sad day for the town when the church closed its doors due to a dwindling congregation.
The Rev. Abraham says she looks forward to holding services at St. Mary's. "The interior of the church sets a prayerful atmosphere. The hardwood carving behind the altar and the stained glass windows enhance the worship space. The altar linens have been washed and ironed, the vestments have been cleaned. The church will be completely ready for worship soon."
"Enter into His gates with thanksgiving, and into His courts with praise: be thankful unto Him, and bless His name." (Psalms 100:4)
Rebecca Blackwell Drake
Excerpt from the Hinds County Gazette
August 26, 2010