209 E. Madison Street
Bolton, Mississippi

Second Sundays at St. Mary's
September 14th, 4:00 p.m.
Celebrating St. Mary's
Fourth Anniversary & Homecoming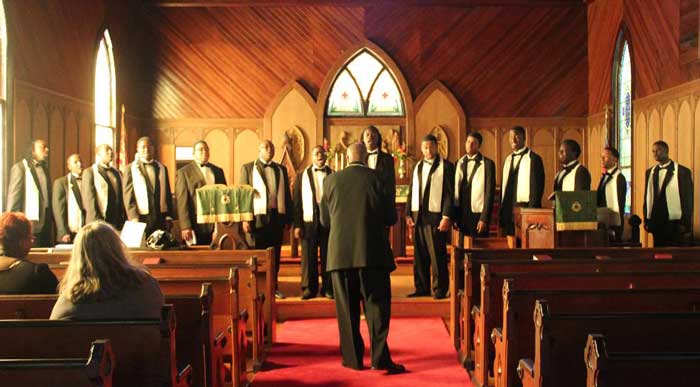 On Sunday, September 14, 2014, 4:00 p.m., St. Mary's Church, Bolton, will celebrate the Fourth Anniversary of its reopening. The Very Reverend Billie Abraham, rector of St. Alban's, Bovina, will celebrate the Holy Eucharist and the famed Jubilee Singers, an all-male choir from Hinds Community College, Utica, will perform the sermon. The choir is under the direction of Dr. Bobby Cooper.
St. Mary's Church was built in 1872 with the first service taking place on April 10th of that year. William Mercer Green, the first bishop of Mississippi, officiated and afterwards wrote glowing remarks of the service in his journal: "Preached at Bolton in their new and beautiful church, which, though in an unfinished state, may claim, both in design and workmanship, to be an ornament to the Diocese, and a monument in praise of the taste and labor of the builders."
For over a century, St. Mary's Church remained active in the diocese and played an important role in the community of Bolton. It was a sad day for the town when the church was compelled to close its doors due to a dwindling congregation. The church sat dormant for decades.
In 2010, Reverend Abraham received permission from Bishop Duncan Gray to reopen St. Mary's and to hold services on a monthly basis. Friends of St. Mary's and communicants of St. Albans joined in the work days needed to repair and clean the church before announcing the reopening. The historic event took place on Sunday, September 12, 2010 and the crowd that assembled was standing room only. There was excitement in the air and it was apparent that the service represented the beginning of something new and something big to come.
The monthly services became known as Second Sundays at St. Mary's. Each service was designed to center around the Eucharist or Evening Prayer in addition to a small concert. James Anderson, Fine Arts Director, is credited with the wonderful array of concerts and performances that have been a part of the Second Sundays series.
The Homecoming Service in September will be a special and historic event. Join us in giving thanks that St. Mary's has continued to open its doors and provide a Holy Space for all who come.
A reception will follow in the Parish Hall.
---
Copyright (c) St. Mary's Episcopal Church, 2014. All Rights Reserved
P.O. Box 566 Bolton, MS 39041
email: webmaster@stmarysbolton.org