209 E. Madison Street
Bolton, Mississippi

Second Sundays at St. Mary's
September 11th, 4:00 p.m.
Jubilee Singers to Perform at St. Mary's Church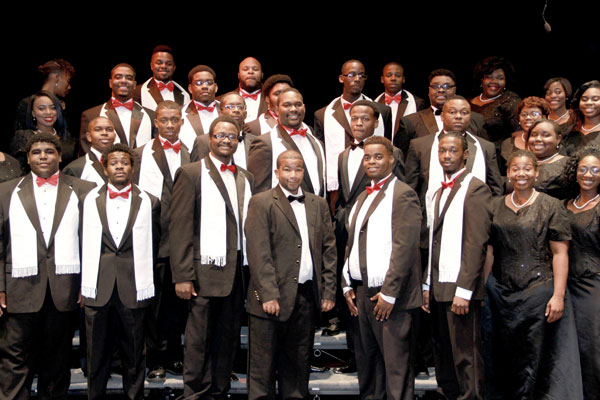 On Sunday, September 11, 4:00 p.m., the internationally acclaimed Jubilee Singers of Hinds Community College, Utica Branch, will perform at St. Mary's Episcopal Church in Bolton. The historic men's ensemble is under the direction of Dr. Bobby Cooper, a native of Bolton.
This year will mark Dr. Cooper's 44th year as choir director at the Utica based college, making him one of the longest serving faculty member in its history. Dr. Cooper's reputation as a first-rate choral director is widespread. Today's students who take part in the Jubilee Singers demonstrate his skilled leadership with their outstanding performances – both nationally and internationally.
In 1972, Dr. Cooper arrived at Utica Junior College, formerly known as the Utica Normal and Industrial Institute for the Training of Colored Young Men and Women, to teach in the Music Department. Ten years later, in 1982, Utica Junior College became a branch of Hinds Community College in Raymond. After studying the musical background of Utica Institute, established in 1903, Dr. Cooper decided to revive the Jubilee Singers, an organization dating back to 1925.
As early as 1926, the Jubilee Singers began making bus tours throughout the United States. The money they raised from concerts helped to support the Utica Institute. The singers, whose style was inspired by the Fisk Jubilee Singers of Nashville, performed in New York City as well as other major cities across America. Their memorable performances helped to establish the Utica Institute as one of America's premiere colleges for the advancement of colored students.
In 1972, after Dr. Cooper joined the Utica College faculty as music instructor and choir director, he revived the name, Jubilee Singers, and accepted the challenge of reestablishing the unique style of singing that was made popular during the 1920s. "The early singers performed Negro spirituals to help raise funds for the school during the 40-year Holtzclaw era," stated Cooper. "I was so moved by the original group's history, dedication and purpose, I felt compelled to revive the unique quality of the historical plantation-era music."
To attain the same quality of sound, Dr. Cooper worked from the original music sheets of the early 1920s. Today that unique sound has become the "hallmark signature" for the Jubilee Singers of Hinds Community College as they receive accolades from audiences all across America and abroad.
On Sunday, September 11, Evening Prayer will take place at St Mary's prior to the performance. Also perform in addition to the Jubilee Singers will be The Daughters of Bobby Coopers, a women's ensemble. Come and enjoy the music and let Dr. Cooper know how much we appreciate his wonderful work for the past 44 years.
Following the concert, a reception honoring Dr. Cooper and the singers will be held in the Terry Brantley Parish House.
---
Copyright (c) St. Mary's Episcopal Church, 2016. All Rights Reserved
P.O. Box 566 Bolton, MS 39041
email: webmaster@stmarysbolton.org